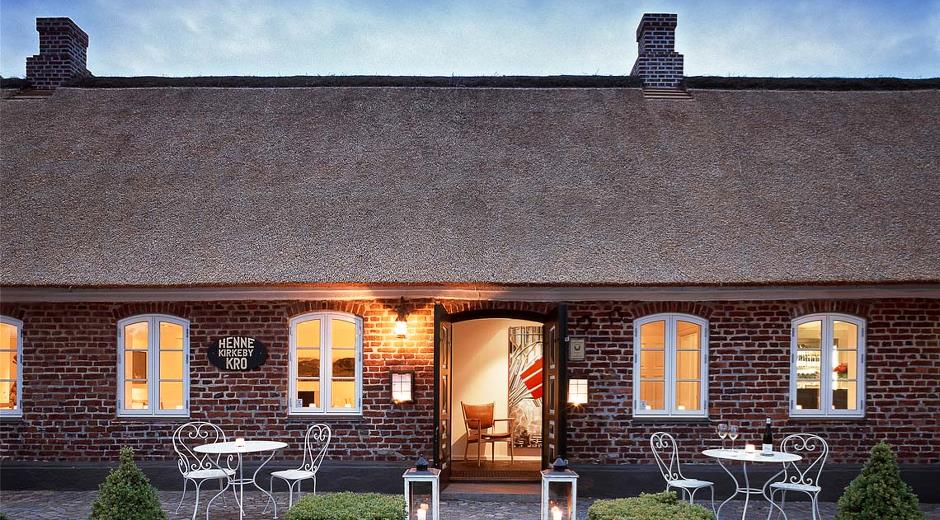 Henne Kirkeby Inn
A culinary experience
Henne Kirkeby Inn has since 1790 been the neighbour of the church in the small town a few minutes' drive from the North Sea.
In the vicinity you also find Filsø, where the famous bird painter Johannes Larsen found many of his motifs in the beginning of the 1900s. Afterwards he and his hunting buddies enjoyed a nice meal at the inn, where the art is still cherished.
The garden of Henne Kirkeby Inn has through the last 200 years evolved into one of the biggest inn gardens of Denmark. The garden supplies the kitchen with inspiration and raw materials, but is also appreciated by the guests staying at the inn.
With a big vegetable garden right outside the door and the best raw materials from the neighbourhood as well as Paul Cunningham and his team behind the stove, a culinary success is at hand.
It is all about taste, which brings pleasure, and here you are often offered a taste of something you didn't know you wanted to try.
Henne Kirkeby Inn is not inexpensive but is still very much recommended for a romantic dinner for two. You deserve it...
Henne Kirkeby Inn is app. 15 minutes' drive away from Dayz Seawest Nymindegab.
Strandvejen 234
6854 Henne, Danmark
Telefon: 7525 5400
Read more at hennekirkebykro.dk